There are some additional steps we ask all our staff, students and visitors to take, to ensure they can access our services securely and to help protect against identity theft.
When you first sign in to https://www.office.com with your Morley College e-mail address and password, you will be asked for some additional information and to setup the Microsoft Authenticator app.
The Microsoft Authenticator app helps to identify you when you sign in and to ensure that your Morley College London account is safe, so that you can access our services securely.
The app is available for Android and Apple devices.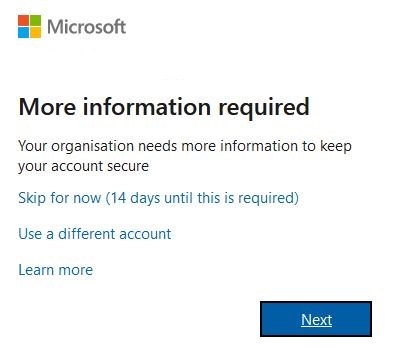 To set this up you will need a mobile device which will be available whenever you sign in.
Click Next or Skip for now if you are not ready to proceed (you have up to 14-days to complete it).
If you are unable to use the app select "I want to use a different authenticator app", otherwise download and install the Microsoft Authenticator app (for Android or iOS) and then click Next
Follow the instructions to set up your account and ensure you select "Work or school", then click Next
Scan the QR code that is displayed on the screen and click Next
Click Next again and then click Done to finish
IMPORTANT: Ensure you always have your device with you when you sign in to your account.